Best Radio Remote Control Cars for Kids 2022
Radio controlled cars has been a passion of young kids since years. Boys of age 3-14 just love these cars and stunts that they can perform with these. Here is a top 10 RC cars list for car lover boys who love to buy any new RC car that comes out in the market.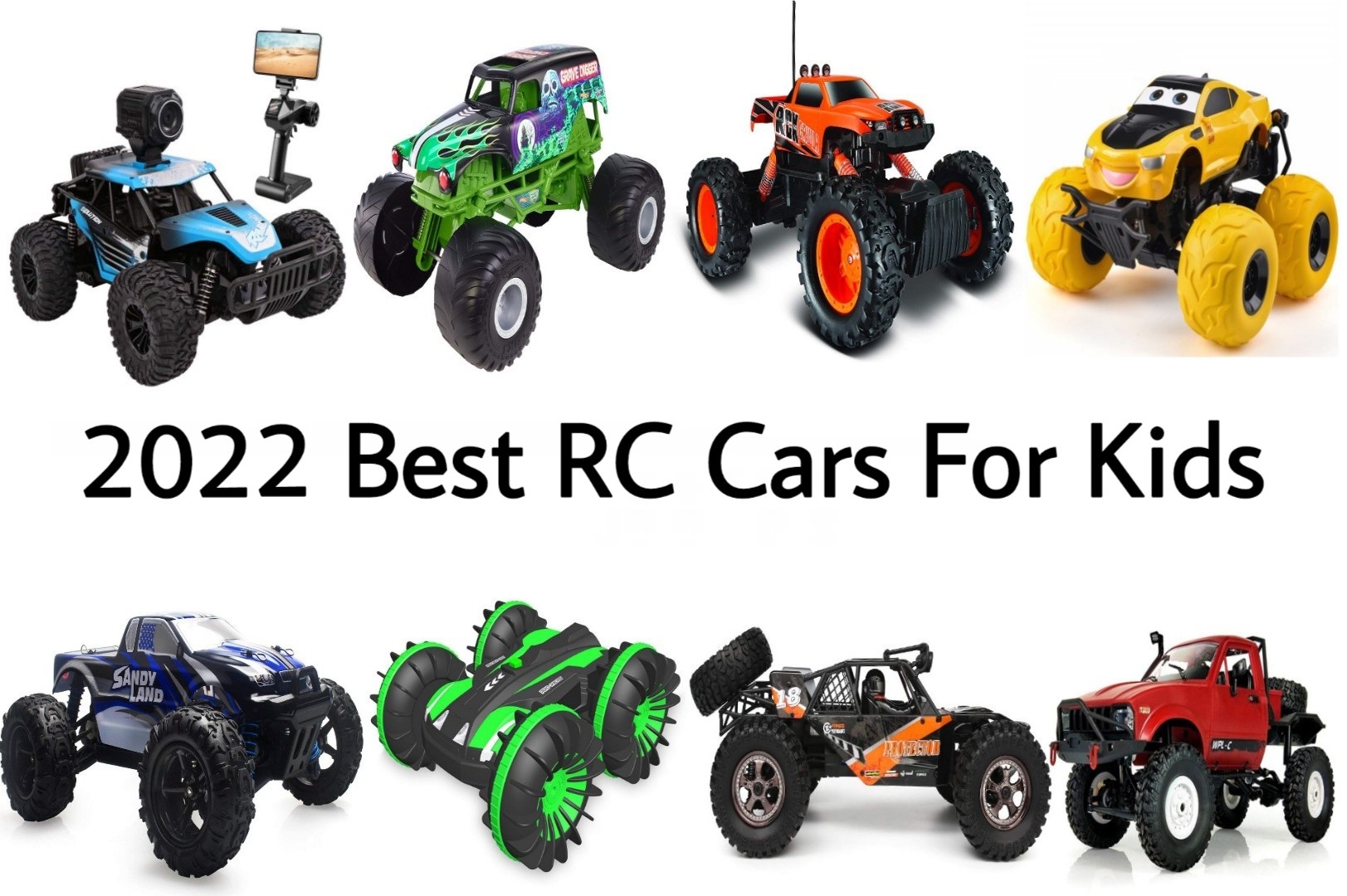 Top 10 RC Cars for Kids 2022
Looking for the top 10 RC cars 2022? You have come to the right place! Given below is a list of 10 best remote-control cars for children.
1) Hot Wheels Monster Jam Giant Grave Digger Truck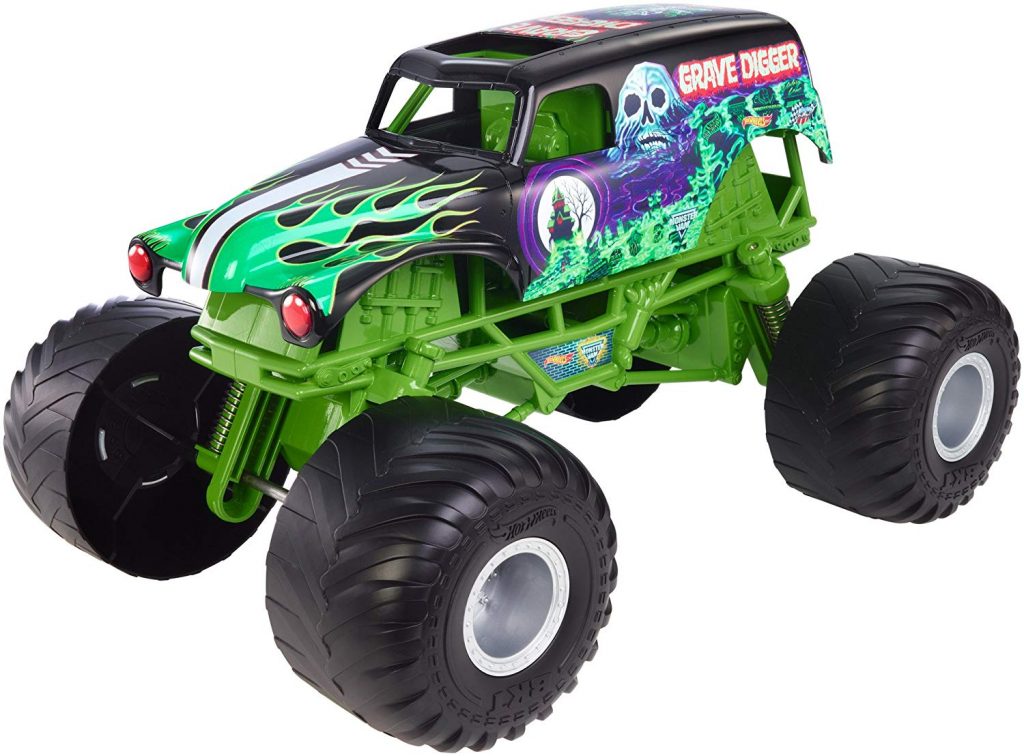 Hot wheels RC Monster Jam Grave Digger was made in the memory of Grave Digger on his 30th anniversary. It features very realistic car crushing sound as the car rolls over the obstacles. It is best for the children of 5-14 years of age. This RC monster jam is real fun for young kids and its green color makes it even more monstrous.
2) Maisto R/C Rock Crawler Radio Control Vehicle (Colors May Vary)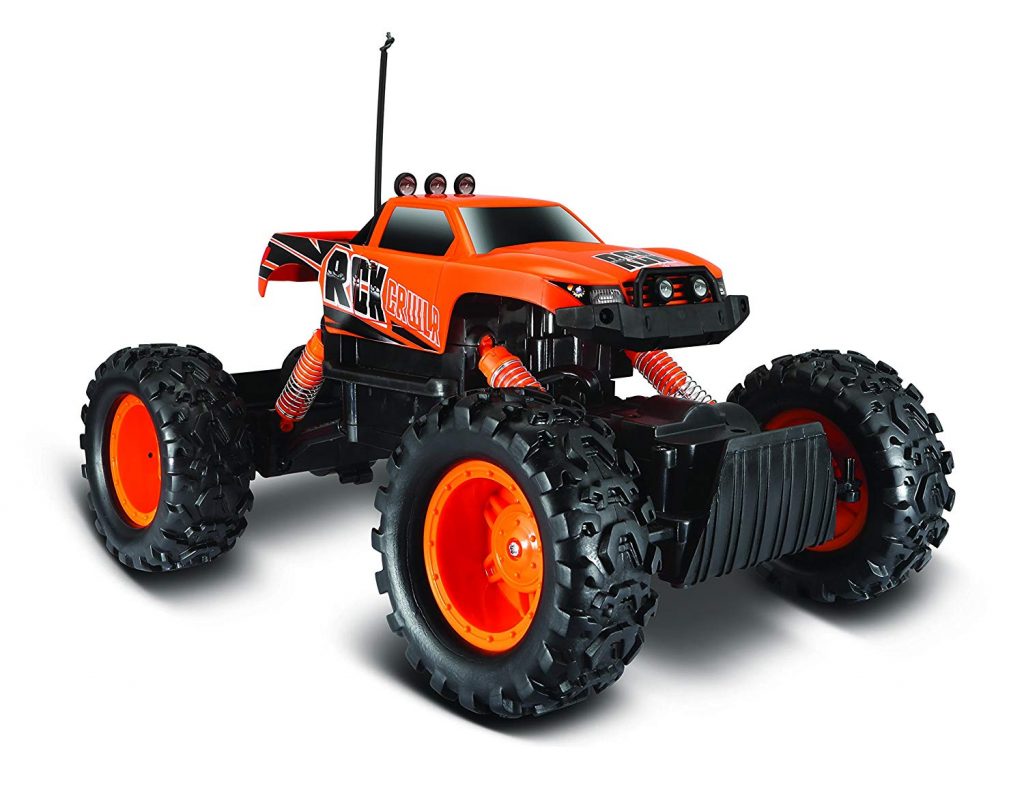 Rock crawler from Maisto takes your radio control experience off the road. This truck comes in many colors and boasts articulated suspensions along with two motors and low gearing that allows it to make awesome stunts and rugged off road actions. It is 12.5 inch long and has a tri channel transmitter.
3) Chuck Flip the Bounceback Racer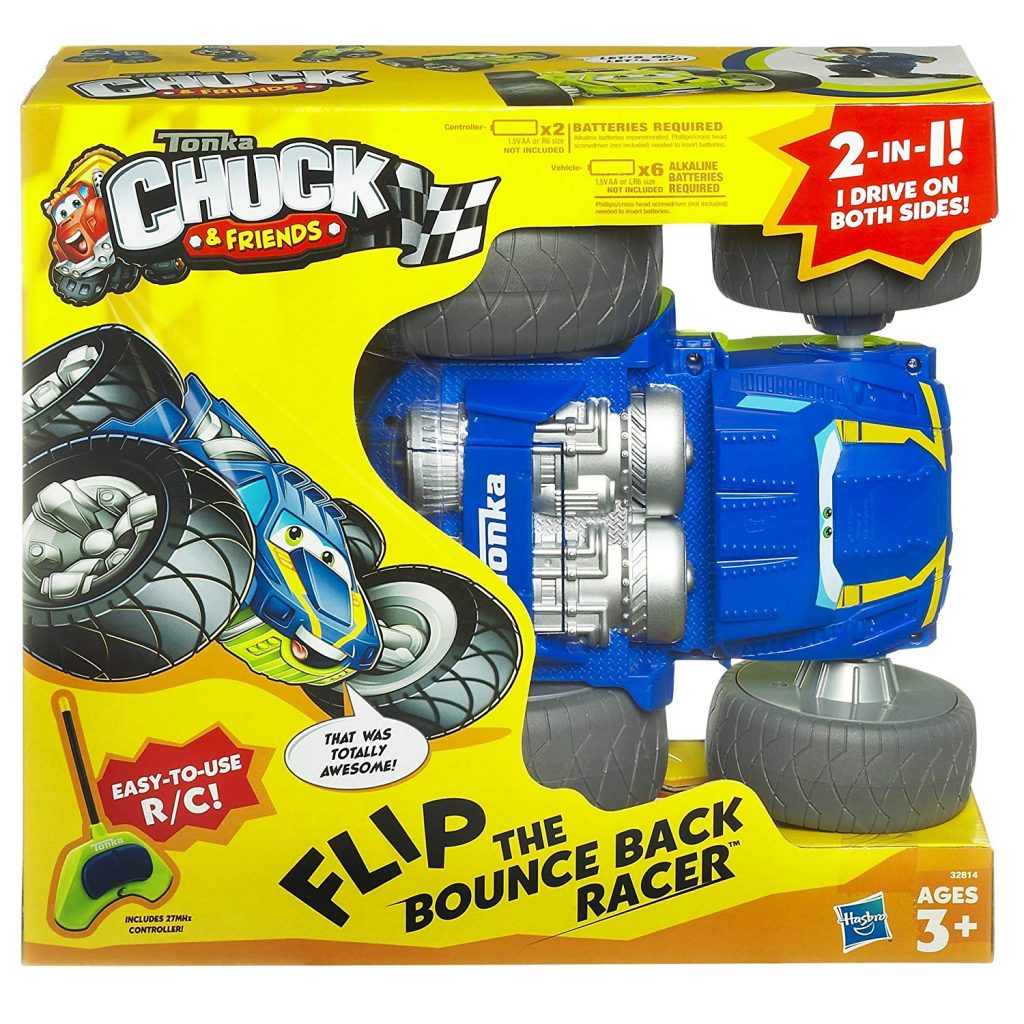 Bounceback RC Racer is fun, fast and flippable. It is the best RC car for your little one who loves speedy toys. It is easy to use and with the wireless controller you can send this blue and green sports car forward or backward. You will love to race this car over obstacles and make it flip now and then. The car requires 6 AA batteries and is designed for kids of age 3 and above.
4) Greenlight Gone in Sixty S (2000) – 1967 Ford Mustang Eleanor 2.4 Ghz Remote Control (1:18 Scale) Vehicle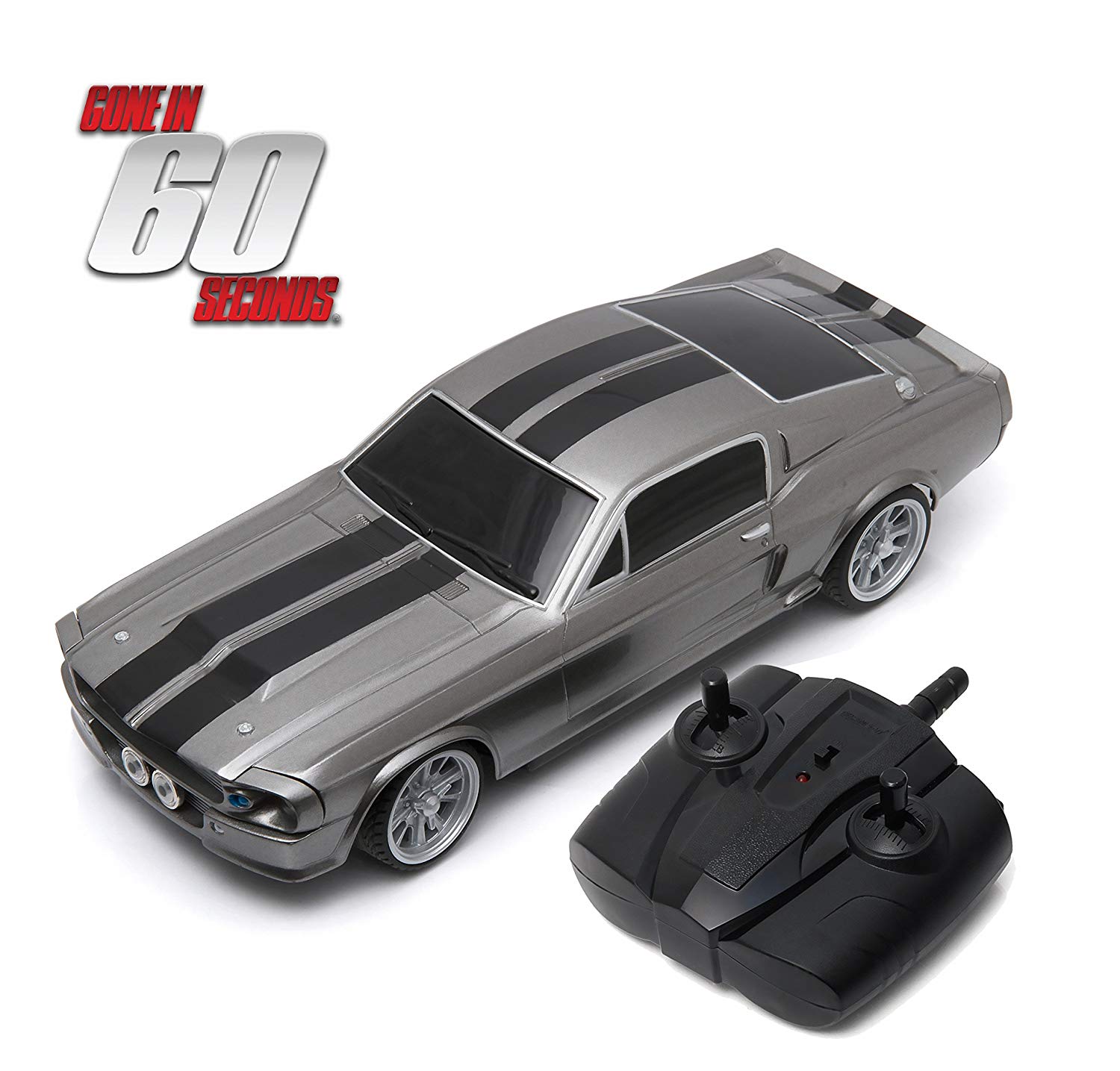 This high speed Ford Mustang is an electric RC car that comes in variety of colors. It has powerful 9.6V rechargeable battery along with a charger pack. This high speed Electric RC Car 1967 Ford Mustang has a range of 100 meter and is ready to run once out of the box.
5) Hosim Large Size 1:10 Scale High Speed 46km/h 4WD 2.4Ghz Remote Control Truck 9125,Radio Controlled Off-road RC Car Electronic Monster Truck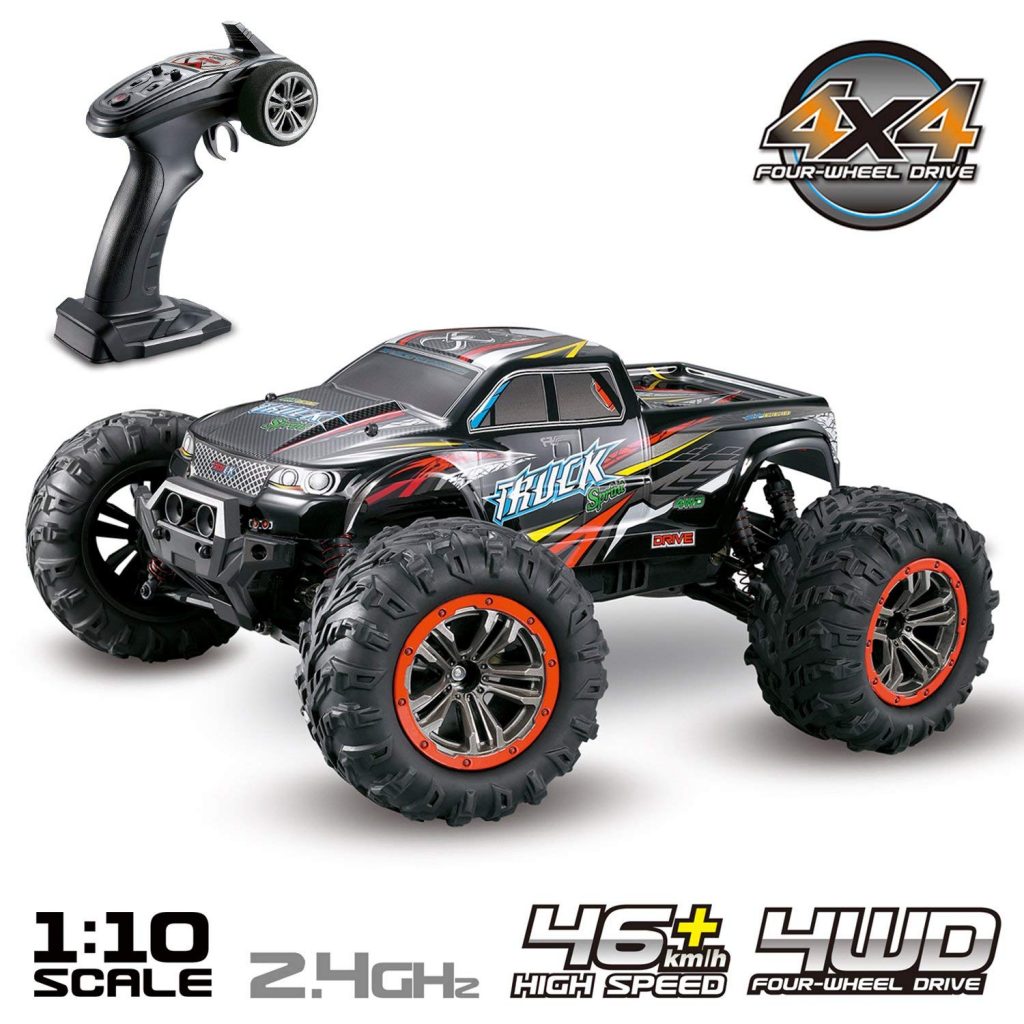 Hosim offers you a powerful off road RC car in two colors. The maximum speed of this RC car is 46km/h. It is equipped with double motors and has strong grip tires so you can use this car on on-road and off road environments. It's oversize wheels, Top quality ABS material shell and anti throw ability makes it possible to go hrough off road, rugged road and on road. Buy this wonderful 4 Wheel RC Car for your kid. It could be a wonderful birthday / Christmas present for your son.
6) Waterproof Remote Control Car Boat 4WD 6CH 2.4G All Terrain RC Vehicle 1/16 Scale Double Sides Stunt Vehicle with 360 Degree Spins and Flips by FREE TO FLY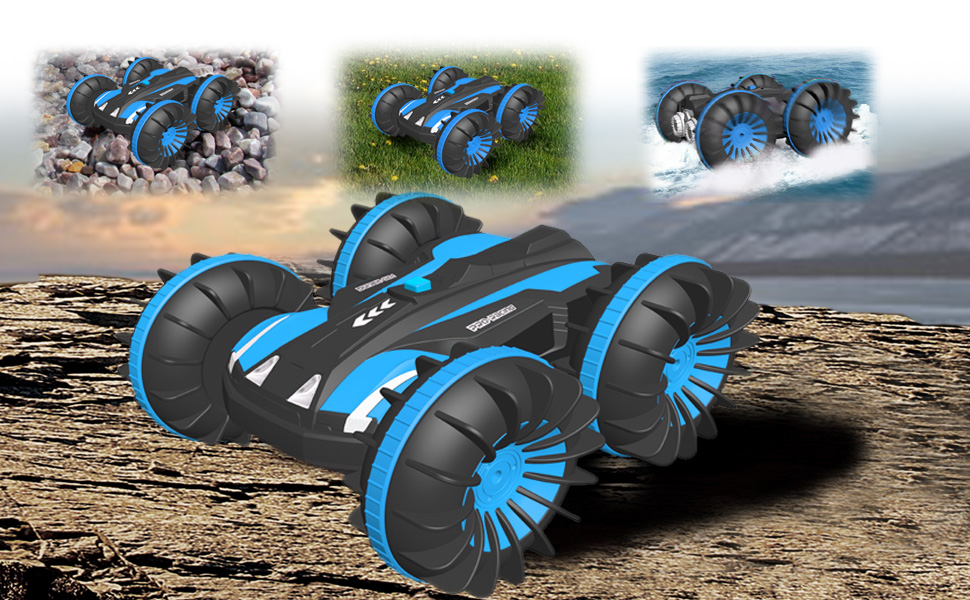 It is a unique RC car as it works great on land and water. This multi functional stunt rc car spee dis about 15km/h. It takes 2 to 3 hours to charge this car completely and it has about 15 to 20 minutes playing time. The control distance of this car is 60M that is very good. It has all the functions like Turn Left, Turn Right, Forward, Backward, Drive on Land and in Water, 360 Degree Spinning on land and water and flip.
The car is completely waterproof as it has waterproof rubber ring that protects inner accessory of the car and hence it is possible to drive this car even on the water.
7) All Train Waterproof Large RC Electric Car for Kids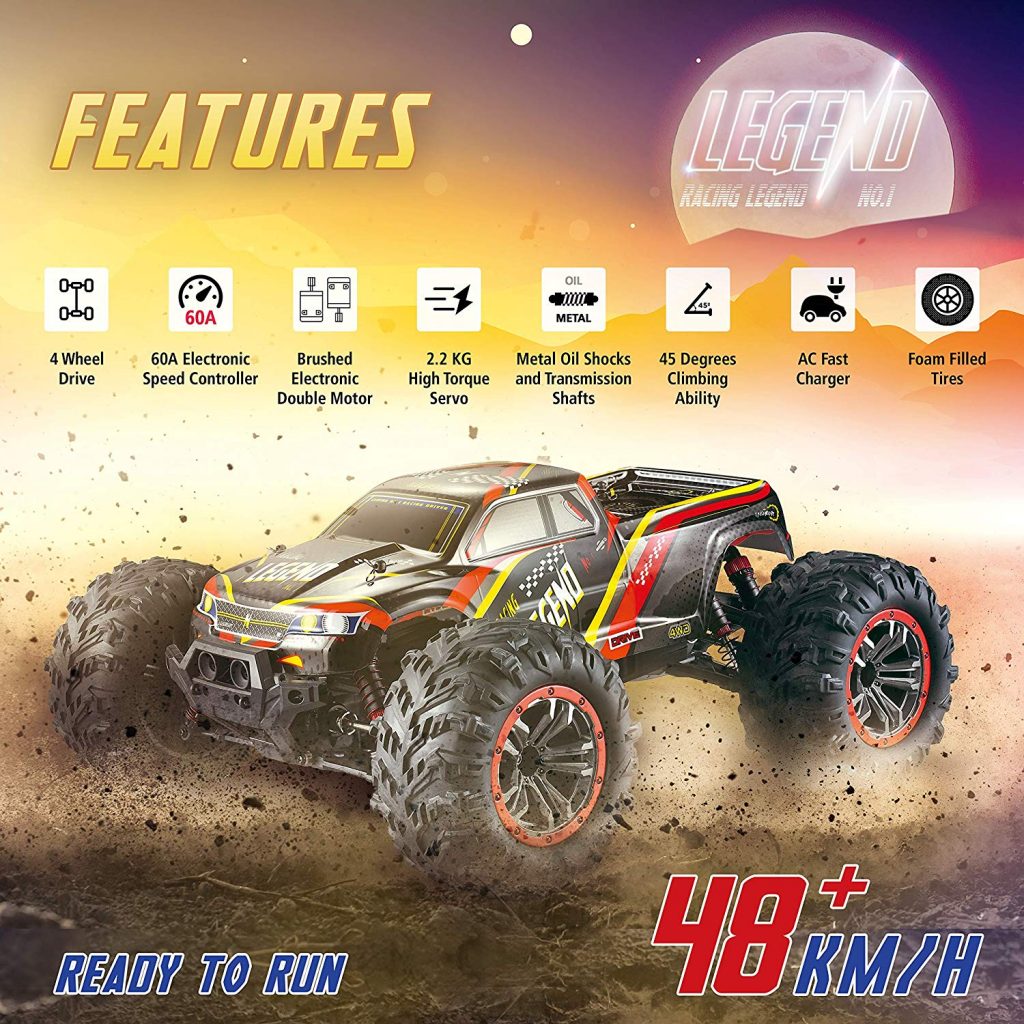 It is a large full function waterproof monster electric car for kids. It has 2 powerful 1600mah rechargeable batteries and a special double battery connector. You can drive this car for 30 minutes continuously. The car speed is 48km/h, and this high speed shows the power of this monster rc car. Average speed of an electric remote control car is around 15km/h. The car is made with high quality material. It has extraordinary grip, oil filled metal shocks and heavy duty wheels allows you to drive this car on all terrains I,e sand, rock, beach or concrete road.
It has 2 speed modes. One is low speed mode that is used for learning and driving the car in smaller areas. 2nd is high speed mode for running this car in larger areas and racing.
If you are looking for an exciting and cool Christmas/Birthday gift for your son then buy this rc car. Your son will love our LAGENDARY radio remote controlled car.
8) RC Car, DeXop Newest 2.4Ghz 4WD Off-Road Remote Contorl Car with HD Camera & Dual Control Mode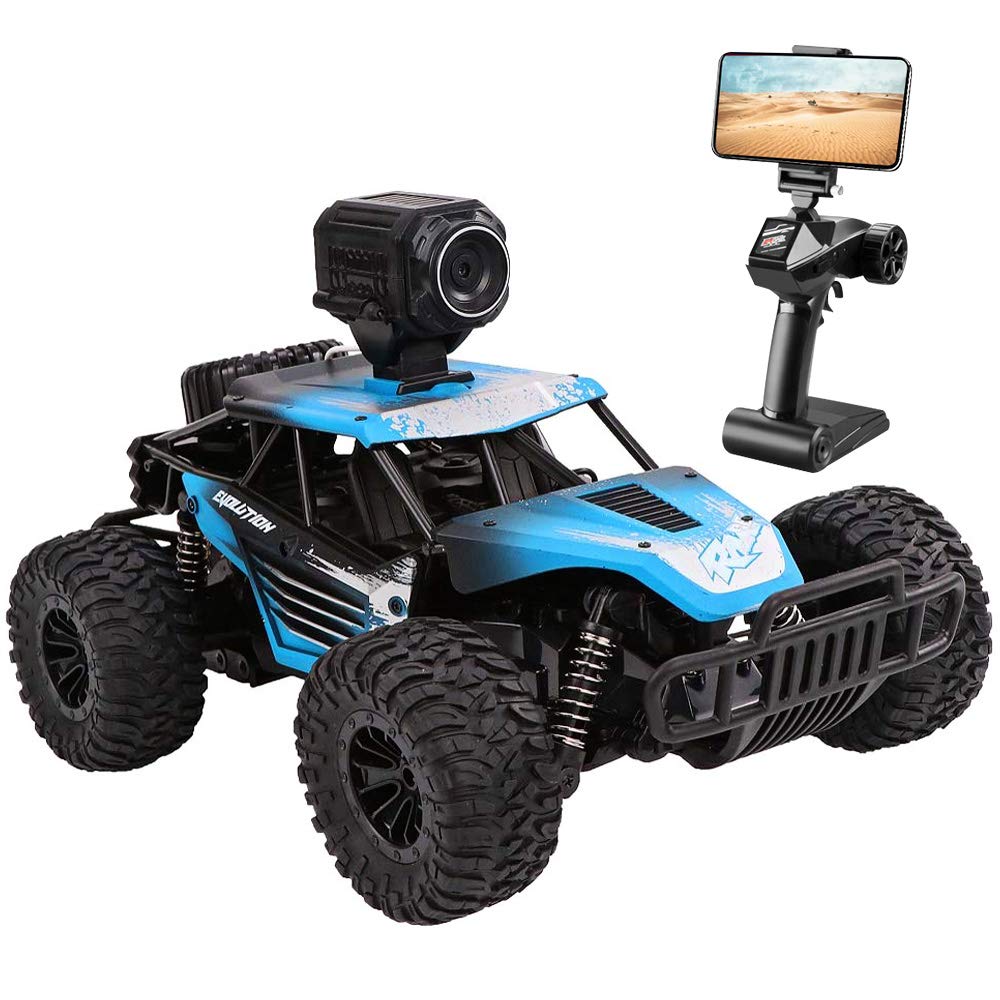 This newest remote-controlled car is equipped with 720p HD WIFI camera which allows you to make HD video or take high resolution pictures while driving this car. You can also enjoy real time transmission on your cell phone. You can drive this rc truck with remote control or mobile phone device app. The app name is heliway racing app. Download this app and enjoy driving this car via your cell phone. Control distance of this car is around 80m while wifi transmission distance is around 35 to 40 meters. you can smoothly drive this car on uneven ground such as sand or grass because of its shock proof design.
9) Sugoiti Remote Control Stunt Car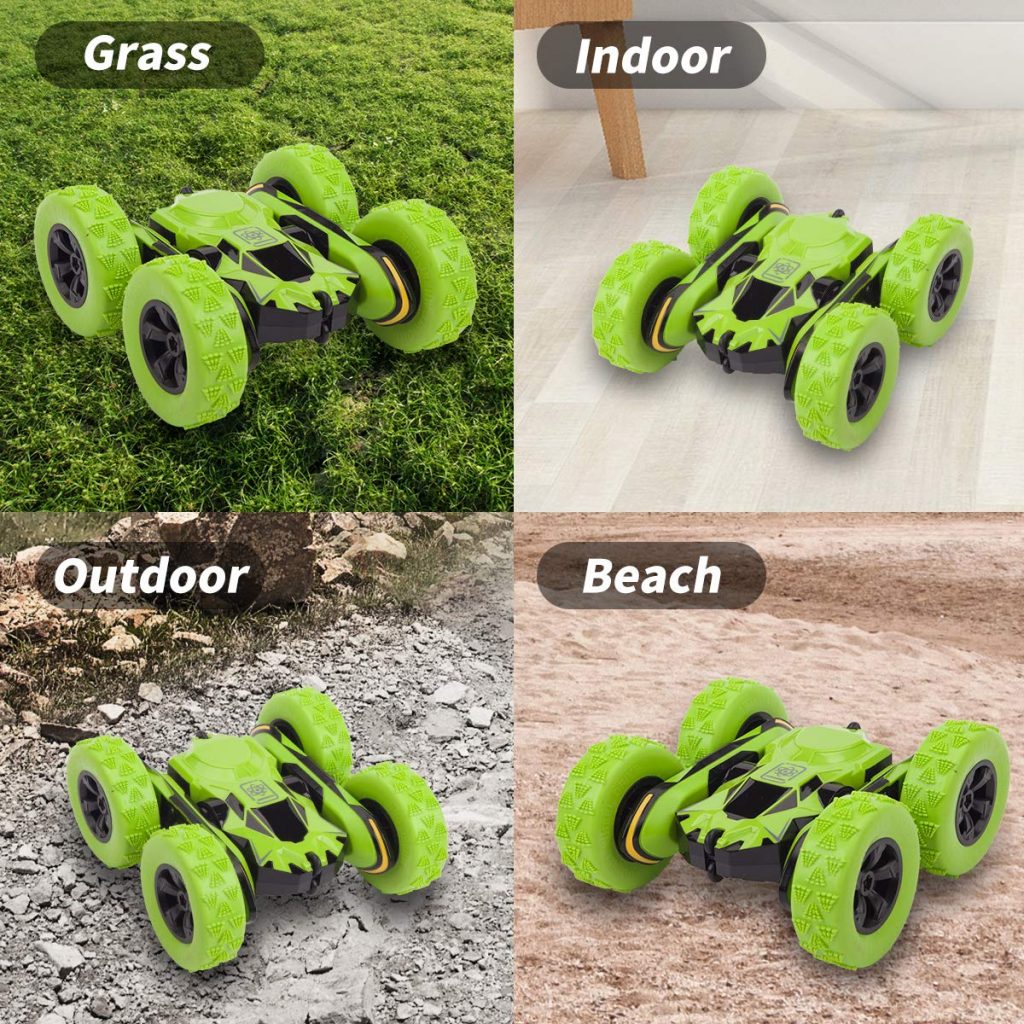 This sugoiti remote control is made of top quality ABS plastic, It is safe for children as it is made of non toxic explosion proof PVC materials. It is equipped with powerful motor system. The maximum speed of this car is around 15km/h. It has good battery timing, 25 minutes for non stop playing. The control distance of the car is 60m. It is suitable for kids of 6 – 8 years. You can drive this car on water but to increase its life it is not recommended to drive this car on water.
10) RC Car, SPESXFUN 2019 Updated 1/16 Scale High Speed Remote Control Car, 2.4Ghz Off Road RC Trucks with Two Rechargeable Batteries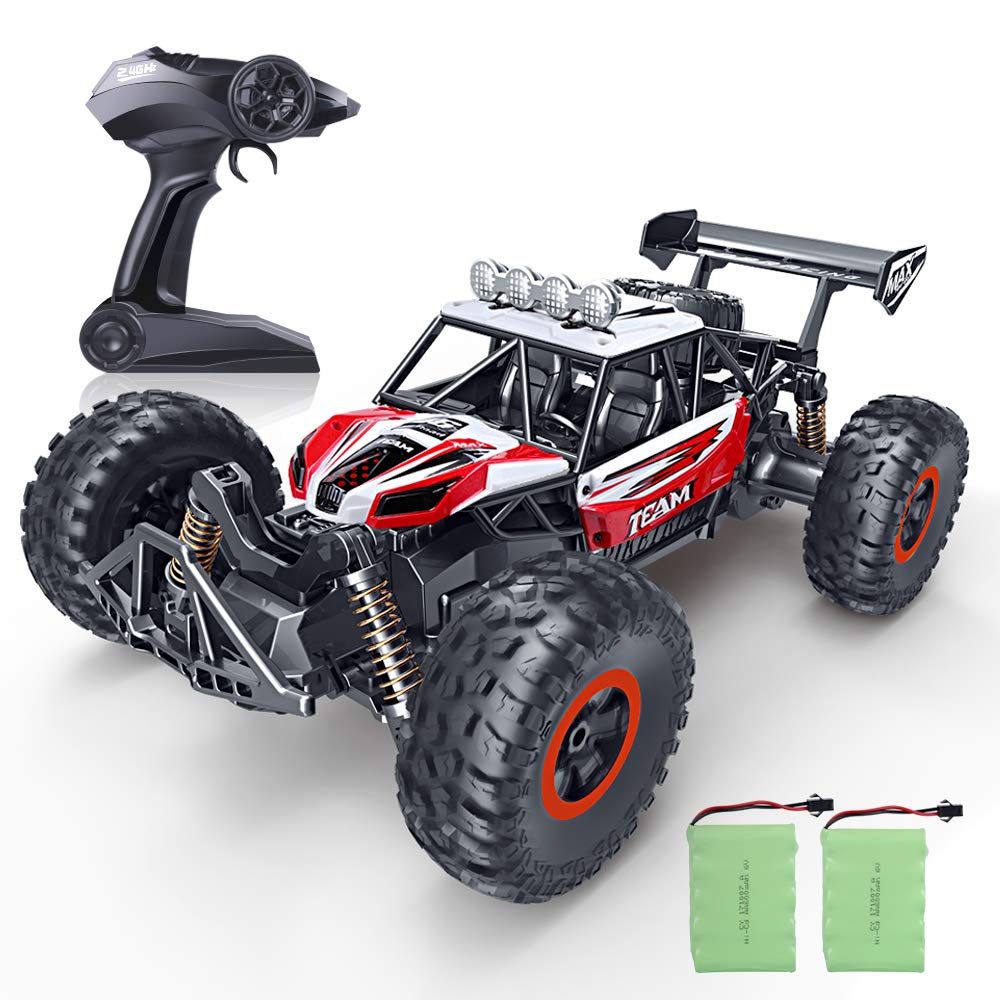 SPESXFUN 2019 updated rc car is one of the best rated rc cars in 2019. Its unique design,and 1/16 scale makes it more impressive and realistic. It is equipped with 2 powerful motors that enable us to drive this car at the speed of 25km/h. Its 4 huge anti-slip wheels, shock absorbers and shockproof springs help the car to drive smooth even on unbalanced surface like sands, rocks or grass.
The car is made of high quality metal and ABS plastic which is safer. A it has 2 rechargebale battery packs so it can be run for about 25 to 30 minutes continuously. If you are looking for a unique and exciting birthday gift for your kid then this Rc car is a perfect gift for him.